"Remember that you are dust," the Rev. Dr. David Gambrell told worshipers during the 2020 Ash Wednesday service at the Presbyterian Center, "and to dust you shall return." (Photo by Rich Copley)
We are not able to do our traditional Ash Wednesday service in-person this Wednesday because of Covid restrictions.
However you can join us virtually by clicking the video link below to worship from our Sanctuary.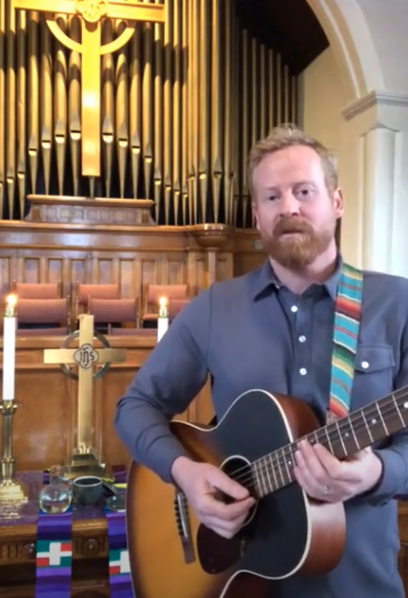 Click HERE
Please read and watch  An Online Ash Wednesday service from the National Presbyterian Church
by Scott O'Neill | Presbyterian News Service | February 8, 2021 LOUISVILLE — The Presbyterian Church (U.S.A.) is providing for congregational use an online Ash Wednesday service.
The 40-minute pre-recorded service was filmed at the chapel in the Center's Louisville, Kentucky, office.
Ash Wednesday, which in 2021 falls on Feb. 17, marks the beginning of Lent, a time of reflection and prayer in preparation of Christ's crucifixion and resurrection. The Rev. Dr. David Gambrell, associate for worship in the PC(USA)'s Office of Theology & Worship, who along with Dr. William McConnell, a Mission Engagement Advisor in the Presbyterian Mission Agency, prepared the service, said he's confident that the service reflects the hope and promise of the gospel.
Resources for use with the service may be found here. Additional resources are being added.
"In some ways, it feels as though we have been living in the season of Lent since March of 2020 — confronted with mortality through the COVID-19 pandemic, lamenting and repenting of the evils of racism, longing for reconciliation in a time of deep division," said Gambrell. "Our prayer is that this online Ash Wednesday service will point the hope and promise of the gospel through the cross of Jesus Christ. As the Ash Wednesday liturgy says, "God is our refuge and strength, a present help in trouble. Therefore we will not fear …."
The service features closed captioning in English, Spanish, and Korean subtitles.
An extended script of the Ash Wednesday service can be found here.