Presbyterian Church (U.S.A.) Presbyterian Disaster Assistance (PDA). 
Fifteen years after Katrina, many volunteers have made disaster response their lives
To read this article Click HERE 
Many Presbyterian Disaster Assistance volunteers and staff started with 2005 Gulf hurricanes by Rich Copley | Presbyterian News Service
LEXINGTON, Kentucky — Miss Mable had taken to her bed. Her New Orleans home was badly damaged when Hurricane Katrina struck in the late summer of 2005. Then, unscrupulous contractors stole her funds to repair the house. 
"She was so depressed," said Joan Otto, who made numerous trips to Louisiana and Mississippi with Presbyterian Disaster Assistance (PDA) following the twin blows of Hurricanes Katrina and Rita…

Here are the updated Presbyterian Newsletter Links including the Denomination's Daily Briefing for the past few days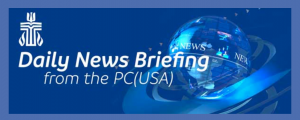 October 19   October 16  October 14  October 13  October 12  October 8.  October 7   October 6   October 5   October 2   October 1   September 30   September 29   September 28   September 25   September 24   September 23   September 22   September 21