Food Week of Action starts Oct. 11
Presbyterian Hunger Program to highlight good work to improve food system
by Darla Carter | Presbyterian News Service
LOUISVILLE — The Presbyterian Hunger Program is gearing up for its annual observance of the Food Week of Action, which will be Oct. 11-18. The week, which is pegged to World Food Day (Oct. 16), is an opportunity to lift up the work of PHP's various partner organizations as well as Hunger Action Congregations (HACs), which are Presbyterian congregations that have signed a covenant committing to faithful action to end hunger and address its root causes.
"We use the Food Week to highlight the good work that's…
To read more Click HERE

Here are the updated Presbyterian Newsletter Links including the Denomination's Daily Briefing for the past few days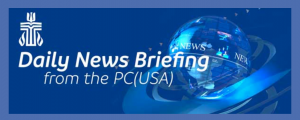 September 30   September 29   September 28   September 25   September 24   September 23    September 22    September 21  September 18   September 17  September 16  September 15   September 14   September 11   September 10   September 9   September 8   September 4   September 3   September 2   September 1
PLUS
Link to join the Matthew 25 Initiative 
Matthew 25 Invitation – To be actively engaged in the world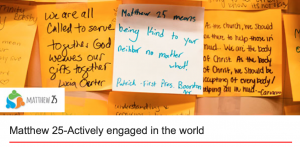 The Matthew 25 invitation was officially launched in April of 2019. Over a year later there are more than 530 churches, groups and mid councils that have made the commitment to become a Matthew 25 church and work towards building congregational vitality, dismantling structural racism and eradicating systemic poverty.