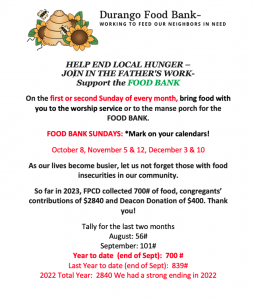 The First December Food Bank Sunday is this week on December 3.
Download the 2023 flier HERE to view the tally of donations for the year to date
HELP END LOCAL HUNGER – JOIN IN THE FATHER'S WORK- support the FOOD BANK
On the first and second Sunday of every month, bring food with you to the worship service or to the manse porch for the FOOD BANK. FOOD BANK SUNDAYS: "Mark on your calendars!"  and December 3 & 10.
As our lives become busier, let us not forget those with food insecurities in our community. …
FOOD BANK UPDATE – New Donation Record Reached
Thank you for making the November Food Bank Collection a success. We donated 243 pounds of groceries. We included the majority of the apple cider that was left from Light Up the Night, so thank you again for donating to that project. We passed the 100 pounds mark twice this year. This is our largest donation and at a perfect time for Thanksgiving.
Food Bank Sundays in December happen December 3 (#1) and December 10 (#2). Can we exceed the tally from November? Let's try!
Barb Conn, and the Board of Deacons