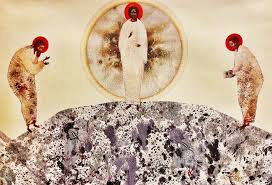 The Twenty-first Sunday after Pentecost
New Revised Standard Version Updated Edition
Isaiah 1:18
Come now, let us argue it out,
says the Lord:
If your sins are like scarlet,
will they become like snow?
If they are red like crimson,
will they become like wool?
Matthew 17:1-9
Six days later, Jesus took with him Peter and James and his brother John and led them up a high mountain, by themselves. And he was transfigured before them, and his face shone like the sun, and his clothes became bright as light. Suddenly there appeared to them Moses and Elijah, talking with him. Then Peter said to Jesus, "Lord, it is good for us to be here; if you wish, I will set up three tents here, one for you, one for Moses, and one for Elijah." While he was still speaking, suddenly a bright cloud overshadowed them, and a voice from the cloud said, "This is my Son, the Beloved; with him I am well pleased; listen to him!" When the disciples heard this, they fell to the ground and were overcome by fear. But Jesus came and touched them, saying, "Get up and do not be afraid." And when they raised their eyes, they saw no one except Jesus himself alone.
As they were coming down the mountain, Jesus ordered them, "Tell no one about the vision until after the Son of Man has been raised from the dead."
Revelation 1:12-16
Then I turned to see whose voice it was that spoke to me, and on turning I saw seven golden lampstands, and in the midst of the lampstands I saw one like the Son of Man, clothed with a long robe and with a golden sash across his chest. His head and his hair were white as white wool, white as snow; his eyes were like a flame of fire; his feet were like burnished bronze, refined as in a furnace, and his voice was like the sound of many waters. In his right hand he held seven stars, and from his mouth came a sharp, two-edged sword, and his face was like the sun shining with full force.